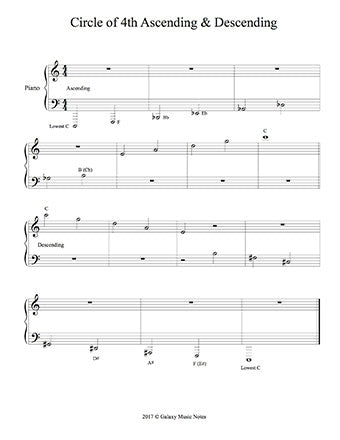 Free Circle of 4th Ascending Descending - Piano exercise sheet
This is an exercise to find the interval of perfect 4th with single notes (not multiple notes at the same time) going up and down. Being able to find the interval of perfect 4th from one to the next quickly is a very useful and helpful technique. Also, this will give you a picture of the circle of the 4th diagram. When one says, "Circle of 4th", accurately it means "Circle of perfect 4th. It can't be diminished 4th or augmented 4th. Perfect 4th has 5 half steps between the 2 notes. 
For this exercise, you can just use one finger and poke these notes. And it's going to be helpful to see visually on the keys. Eventually, it's more important to memorize than looking at this exercise sheet. This exercise sheet begins with a note C. But you should be able to start it eventually from any key. Also, practice slowly first and increase the tempo gradually. 
It's boring to listen to the recording. But it's also important to be able to hear how perfect 4th sounds like. So, please refer to the recording. 
About this sheet music and what it includes:
Pages: 1 page of exercises 
Fingerings: none (you can just use any one finger and poke)
Instrumentation: For piano solo 
Complete audio sample: Always free to listen to on our website
Downloading file: PDF
Editor: Mizue Murakami
Publisher: Galaxy Music Notes
Product number: GMNEO-01
Download, Print (or see it on your tablet), and Practice! 
This product is a free digital download. Even though this is free, you still need to go through the checkout page. You do not need to give your credit card information though. After you go through the checkout page, you will be downloading a PDF file. You should be able to download it to your desktop, laptop, smartphone or tablet if they are connected to the internet. You'll also receive a download link via email. You may download it later when it's convenient for you. After you download it, please print it out or see it on your tablet for your use. And most importantly, PRACTICE!
If you have a difficulty downloading a PDF file you may need to upgrade or download Adobe Acrobat Reader. Please visit Adobe Acrobat Reader to download the newest Adobe Acrobat Reader. 
More FREE piano exercises available
Please visit our page, "Free Piano Exercises" to browse more exercises to help your piano playing skills.
---
Share this Product