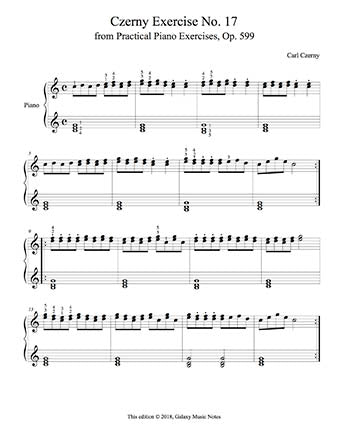 Free Czerny No. 17
from Op. 599 - Practical Piano Exercise Sheet
This is No. 17 from Practical Piano Exercises, Op. 599 by Carl Czerny. Often this Op. 599 is titled in English as "Practical Exercises for Beginners" or "Practical Method for Beginners". However, we titled it as "Practical Piano Exercises" and removed "for Beginners" from the title. Only the exercises from No. 1 through No. 10 of Op. 599 are considered for beginners. After that, they get more advanced. 
Please notice that both clefs are in the treble clef.
The new challenge in the exercise No. 17 is that the right hand is required to move up and down with the interval of 3rd. Making the all the intervals of 3rd very even and smooth is very difficult. Practice the right-hand part very slowly and listen carefully to see if you are evenly playing the 3rds. To be able to focus on this difficult right-hand part, Carl Czerny created the left-hand part to be easy. You will be playing just I (tonic) and V (dominant) chords only with the blocked (solid) style with whole notes.
The right-hand stays in C 5-finger position (scale) for the entire time. 
To learn more about the creator of "Practical Piano Exercises, Op. 599", Carl Czerny, please visit our page, "About Carl Czerny".
About this sheet music and what it includes:
No. 17 from Practical Piano Exercises, Op. 599
By Carl Czerny
Pages: 1 page of exercise
Fingerings: only on the important notes and 1st I and V chord
Instrumentation: For piano solo 
Complete audio sample: Always free to listen to on our website. The repeats are omitted.
Downloading file: PDF
Music editor: Mizue Murakami
Publisher: Galaxy Music Notes
GMNC599017
Download, Print (or see it on your tablet), and Practice! 
This product is a free digital download. Even though this is free, you still need to go through the checkout page. You do not need to give your credit card information though. After you go through the checkout page, you will be downloading a PDF file. You should be able to download it to your desktop, laptop, smartphone or tablet if they are connected to the internet. You'll also receive a download link via email. You may download it later when it's convenient for you. After you download it, please print it out or see it on your tablet for your use. And most importantly, PRACTICE!
If you have a difficulty downloading a PDF file you may need to upgrade or download Adobe Acrobat Reader. Please visit Adobe Acrobat Reader to download the newest Adobe Acrobat Reader. 
More FREE piano exercises available
Please visit our page, "Free Piano Exercises" to browse more exercises to help your piano playing skills.
---
Share this Product