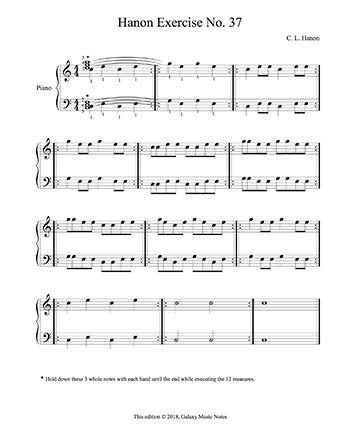 Hanon Exercise No. 37
from The Virtuoso Pianist - Part 2 - Free sheet
This is Hanon Exercise No. 37 from The Virtuoso Pianist, Part II by C. L. Hanon. You can pick your preferred tempo. But first, it's best to practice slowly so that you can hear if you are playing every note evenly. We also highly recommend practicing with hands separately first so that you can also hear if you are playing all the notes evenly. Make sure to lift the previous finger when you go to the next finger to maximize the strengthening exercise. If you are doing well you may practice with hands together and also increase the tempo gradually. 
Hanon Exercise No. 37 is a unique and difficult exercise. You'll be practicing moving your thumb (the finger-1) while holding the 3-note triad (chord) until the end.  The 3-note triad is played by finger 2, 4, and 5 for both hands. The only moving finger will be the thumb for the entire exercise. Be patient and practice slowly and hands separately first. Lift your hand (palm) a little to create a space for your thumb to move more comfortably throughout the exercise and for the thumb to create a clear clean sound on the keys. 
On the score, the 3-note triad is not written from the 2nd measure. However, please assume that you'll be holding (tied notes) the same 3 notes until you finish the entire exercise. 
To learn more about the creator of The Virtuoso Pianist, Charles Hanon, please visit our page, "About C. L. Hanon". 
About this sheet music and what it includes:
No. 37 from Part 2 of The Virtuoso Pianist (See other exercises from Part 2)
By C. L. Hanon 
Pages: 1 page of exercise
Fingerings: First 2 measures 
Instrumentation: For piano solo 
Complete audio sample: Always free to listen to on our website
Downloading file: PDF
Arranger and music editor: Mizue Murakami
Publisher: Galaxy Music Notes
Product code: GMNH037
Download, Print (or see it on your tablet), and Practice! 
This product is a free digital download. Even though this is free, you still need to go through the checkout page. You do not need to give your credit card information though. After you go through the checkout page, you will be downloading a PDF file. You should be able to download it to your desktop, laptop, smartphone or tablet if they are connected to the internet. You'll also receive a download link via email. You may download it later when it's convenient for you. After you download it, please print it out or see it on your tablet for your use. And most importantly, PRACTICE!
If you have a difficulty downloading a PDF file you may need to upgrade or download Adobe Acrobat Reader. Please visit Adobe Acrobat Reader to download the newest Adobe Acrobat Reader.
More FREE piano exercises available
Please visit our page, "Free Piano Exercises" to browse more exercises to help your piano playing skills.
---
Share this Product